Kalinga Institute of Medical Sciences (KIMS), a renowned institution affiliated with KIIT Deemed to be University, is thrilled to invite talented individuals to join their team. KIMS, widely acknowledged for its exceptional medical services, is offering a range of rewarding positions across various departments. This is your chance to be a part of this prestigious institution. Here are the key positions available:
1. Faculty Positions Available
KIMS is actively searching for passionate and dedicated individuals to fill faculty positions in several key departments, including:
Community Medicine
Anaesthesiology
Anatomy
Biochemistry
Paediatrics
Dermatology
Pharmacology
Plastic Surgery
Neuro-Oncology
Candidates must meet the qualifications and experience standards set by the National Medical Commission (NMC) for Assistant Professors and Senior Residents. Successful candidates will receive a competitive salary in accordance with NMC guidelines, and campus accommodations can be arranged as per prevailing rules. Individuals with a strong academic background from renowned institutions are encouraged to apply.
2. Nursing Officer Roles
If you aspire to be part of the nursing team at KIMS, here are the specific eligibility criteria:
+2 education completion
Diploma in GNM/B.Sc. Nursing from a recognized Medical College or Hospital in the state or institutions approved by the Indian Nursing Council
Valid registration certificate from the Nursing Council of Odisha
Preference will be given to those with relevant experience.
3. Clinical Pharmacist Opportunities
KIMS is also looking to hire Clinical Pharmacists with specific qualifications. Candidates should meet the following criteria:
Hold a degree in D. Pharm/B. Pharm
Be licensed by the State Board of Pharmacy
Possess at least 2-4 years of experience in a hospital setting as Clinical Pharmacists
Salary for this position is negotiable for deserving candidates.
Application Procedure
If you are interested in any of these opportunities, please send your applications via email to [email protected] within the next 10 days. Make sure to mention the specific position you are applying for in the subject line of your email.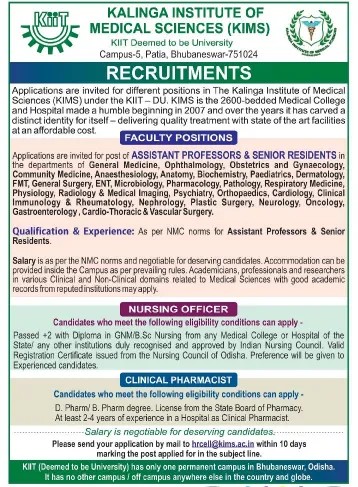 Important Note
Kalinga Institute of Medical Sciences (KIMS) operates exclusively from its permanent campus in Bhubaneswar, Odisha. There are no other campuses or off-campus locations anywhere in the country or the world.
This is an exceptional opportunity for professionals and enthusiasts in the field of medical sciences to become part of the KIMS family and contribute to its mission of providing high-quality healthcare services. Don't miss out on the chance to join this renowned institution that continues to make a significant impact on the medical landscape. Apply today and become a part of the KIMS legacy.